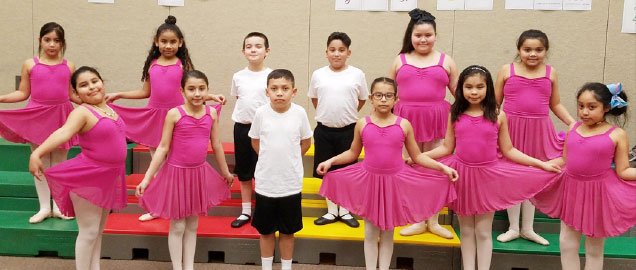 Imagine a program that offers local elementary school students the chance to take complimentary ballet lessons from the convenience of their home school.
That's exactly what the Omaha Academy of Ballet did when it launched Dance Away Your Afternoons a few years ago, and Mutual of Omaha jumped at the opportunity to sponsor this arts education program for youth in our community.
Jessica Kennedy, Executive Director of the Omaha Academy of Ballet, shares more about the past, present and future of this unique offering.
When did Dance Away Your Afternoons begin?
The first year of the program was the 2016-2017 school year. We started in two Title I Omaha Public Schools – Liberty Elementary and Skinner Magnet Center – reaching approximately 30 students. We have since expanded to five schools and are on track to reach approximately 150 students.
What made you decide to develop this program for OPS elementary students?
We wanted to expand beyond our studio classes to create equitable access to high quality ballet training for youth who have socio-economic barriers to arts opportunities, specifically dance. Part of our mission is to provide dance training to all backgrounds, this program allows us to go directly to youth experiencing poverty, lack of transportation, or other socio-economic issues that prevent them from taking classes at the studio. Our program is modeled after The Joffrey Ballet's Community Engagement Program in Chicago.
What does a typical class entail?
We use a beginning ballet curriculum modeled on the same internationally recognized syllabus program we use in our studios (Imperial Society of Teachers of Dancing). Students attend ballet once a week for 45 minutes. They wear the same ballet attire, including shoes, that our studio students wear. A typical class includes warm up, floor stretches, creative movement exercises, standing barre work and then floor exercise.
What kind of impact does this program have on the participants?
Through Dance Away Your Afternoons, students enhance their physical activity, math skills (counting, pattern, repetition), self-discipline and creative self-expression. Dance is also highly collaborative, dancers have to work with one another to move in concert, so the program develops social qualities such as teamwork and cooperation. Additionally, several studies have proven that structured arts activities can enhance academic performance.
What are your hopes and plans for the future of Dance Away Your Afternoons?
We hope to continue the program at all current schools and potentially expand to other elementary schools in the future. Currently, we offer Dance Away Your Afternoons students full scholarships to take studio classes during the summer. Going forward we want to increase scholarship opportunities for interested program participants to continue their training during the school year at the studio.